Body Contouring
Quick Links
Sub-Dermal Therapy (Endermologie)
Cellulite is the "Orange Peel" appearance of the skin which is a result of fat in the subcutaneous fat layer and from the retraction of connective tissue fibres. SDT treats the cutaneous and subcutaneous connective tissue. This unique treatment improves body contour, eliminates toxins and reduces cellulite with significant centimeter loss, by mechanical massage. At the epidermal level SDT improves circulation and performs exfoliation thereby eliminating dead cells and restoring the skins smooth appearance and natural radiance.
Sub-Dermal Therapy twice weekly will improve:
- Body contour & centimeter loss
- Circulation of blood and lymph drainage
- Restore the skins collagen and elasticity
- Reduce the appearance of unsightly cellulite
- Removal of toxins and waste products in fat lobes
which causes "orange peel effect".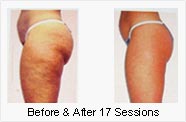 To redefine the shape of your body and STOP the "Orange Peel Effect" contact PhilMar Body Care Today!
---
Mesotherapy (Meso-therapy with no needles)
Meso-Therapy is the latest technique, of applying medication directly into the mesoderm (the layer of fat and connective tissue under the skin) of the problem area. The medication and technique used will be determined by the affected area.
Meso-therapy makes individuals look younger and stimulates the body, blood flow and the immune system, it offers the opportunity to get rid of fat, wrinkles, cellulite etc. without you enduring an invasive procedure and without downtime associated with this type of procedures. This treatment is suited for both men and women.
Meso-Therapy is used for:
- Wrinkle reduction
- Cellulite reduction
- Skin tightening
- Post delivery rejuvenation
- Hair growth
- Stretch marks
Click on the images below for before and after photos of the Mesotherapy Treatment.
To find out more about the Mesotherapy treatment or to book your session contact PhilMar Body Care Here.
---
ProEllixe Vibration
Introducing a new way of staying in shape without perspiration, heart tempo alterations or muscle tiredness. The Proellixe has been developed based on technology from NASA. Instead of spending 2 hours of physical training you can now get the same results in just 10 minutes using the new Proellixe from the house of Promltalia.
The Proellixe transmits a fast sequence of vibrations specifically designed to activate and stimulate the muscle walls. This allows direct stimulation of the muscle, without producing oxidative stress which is the typical after effect of intense muscular activity.
Step out of the office for 10 minutes and step onto the Proellixe without having to get changed or have to rush into the shower. This machine doesn't allow your muscles to get to the point of producing lactic acid, which is the cause of the disagreeable feeling of "hardening" or stiffening that often follows muscular exercise, particularly in unfit people.